Dentistry & Oral Care
A dental cleaning is done for our pets exactly the same way it is done for us. The only exception is that our pets are placed under general anesthesia. Our furry friends just wouldn't sit still for the time it takes to do a thorough cleaning of their teeth both above and below the gum-line.
Signs Your Pet Needs a Dental
Stinky and smelly breath, excessive drooling, chattering teeth, brown or discolored teeth, missing teeth or blood in your pet's mouth are often signs that they have developed dental disease and that your pet needs a dental cleaning. Bring your family cat or dog in during our regular business hours for a no cost dental evaluation with one of our technicians. They can asses your pet's oral health and determine what grade periodontal disease and grade tartar your pet possesses. If we find that your pet has extensive dental disease a full examination with one of our veterinarians will be recommended (at our normal exam cost of $74 weekday, $94 Saturday) so that any oral concerns can be addressed and if needed antibiotics can begin prior to the dental cleaning. This is also a great opportunity for you to discuss any other disease conditions present with your pet.
20 Step Professional Dental Cleaning for Dogs and Cats
Our low cost full anesthetic dental cleaning provides complete care for your pet during their procedure. The morning of surgery you will meet with your pet's surgery nurse to complete surgery admission paperwork. Your cat or dog will then have a pre-anesthetic exam where we take pre-surgical vitals including temperature, heart rate, pulse strength while also looking over your pet for any other conditions that need to be addressed during their visit. An intravenous (IV) catheter is put in place and blood work is run to ensure there are no underlying medical factors that would make anesthesia less safe for your pet. While your pet is being induced for anesthesia a sedative and pain injection are administered, IV fluids are also attached to your pet. IV Fluids help to keep their blood pressure steady, hydrate your pet, and can ease their recovery after anesthesia. While your pet is sedated they also have continual monitoring both with medical monitoring equipment and with their technician. Their teeth are cleaned much like any human dentist does with ultrasonic scaling, sub gingival curettage, charting, x-ray, polishing and a fluoride treatment. Once the procedure is complete your pet is monitored during recovery and their dental charting is complete. When you come to pick your fur kid up we will go over any home care instructions and medications with you. Our complete 20 step dental cleaning is $520.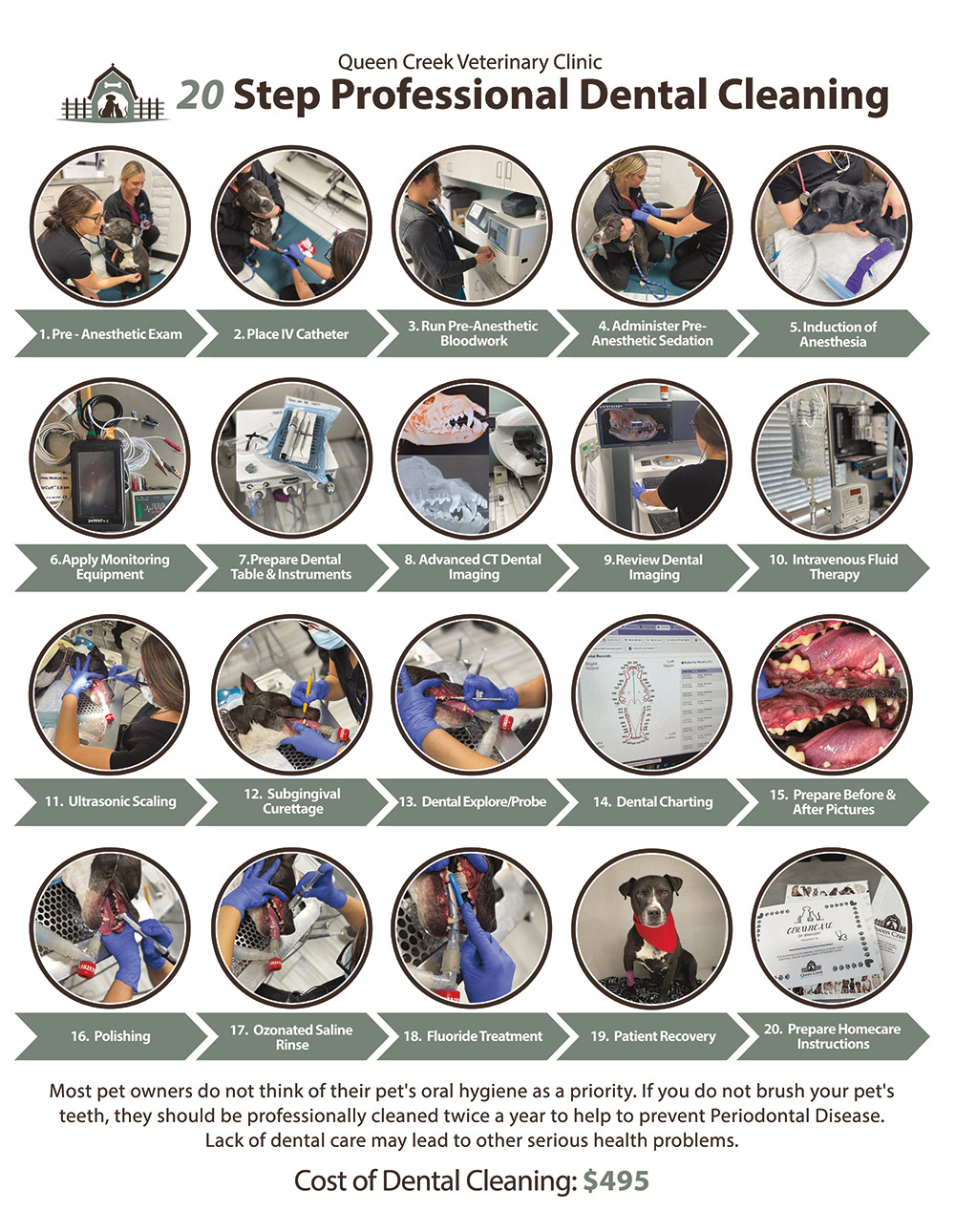 ​The first step in a dental cleaning is to remove the dental tartar, also known as calculus, from the surface of the tooth. This is done by the use of an ultrasonic scaler, which literally vibrates tartar off of the teeth. Then, plaque and tartar are removed from beneath the gums. At this point your pet's teeth are examined with a probe to see if there are any indications of issues beneath the surface of the tooth. We chart your pet's entire mouth. This charting allows us to monitor problems over time.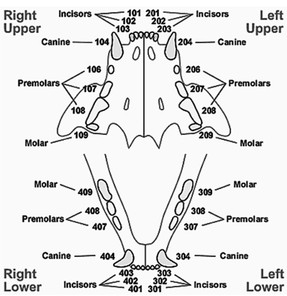 If any deep pockets are found, or if there are loose or broken teeth, we utilize specialized digital dental x-rays to evaluate the tooth for disease including abscesses of the root, bone loss etc. Dental x-ray 's may be taken if there is a potential for extraction. Understanding the extent of the disease of the tooth enables us to save teeth that we might have previously extracted. Sometimes it is necessary to follow up with a second x-ray for more complicated extractions. Pet's that need extractions are commonly sent home on pain medications and antibiotics.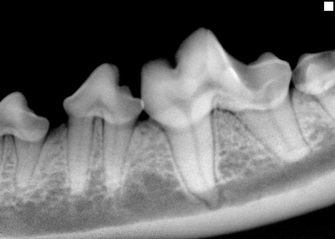 ​After the teeth are cleaned the enamel surface is polished with a prophy-paste that helps to slow down future plaque build up. Removing the plaque is an important part of the cleaning since plaque and tartar contain bacteria. If not removed from under the gum line, bacteria can cause infection of the gum, called gingivitis that can progress to periodontal disease. Periodontal disease is a painful condition that ultimately can lead to tooth loss. We then apply a barrier sealant to the tooth to help delay tartar build up.
​Regular and thorough cleanings are a big part of preventing gingivitis and periodontal disease! Studies show that long term oral disease can contribute to kidney and heart disease.
Dentals are considered surgical procedures due to the use of anesthesia.
We perform all of our procedures with a dedicated and trained staff member who personally oversees and charts your animal's progress while under anesthesia. Every animal is examined by the doctor prior to start of the procedure on the day of surgery. The doctor then customizes an anesthetic and pain management protocol depending on your pet's special needs. We utilize safe and modern pain management for your babies. Animals are continuously monitored for apnea (breathing monitor), end tidal CO2, SPO2 (pulse oximeter) and blood pressure. In addition, pets are catheterized and placed on intravenous fluids to stabilize blood pressure and give us immediate access to their circulatory system in case of a problem during anesthesia. Fluids also help to flush the anesthetic through their system which leads to a faster and smoother recovery after their procedure.