Pet Boarding Services
Going out of town and trying to figure out the best plan to have your pets cared for while you are away? Do you have company coming into town during the Holidays and don't want to overwhelm your cat or dogs? Queen Creek Veterinary Clinic and Pet Resort offers boarding for small to large dogs and kitties too! Our trained Kennel Attendants will care for your fur kids just as you would at home. We offer indoor climate controlled cages for small dogs and Medium, Large, or XL runs for larger pets or pets sharing from the same family. Kitties are kept in their own Kitty Condos in a room dedicated just for cats. We can now send you picture updates via text to make your time away from them just a bit easier!

Queen Creek Veterinary Clinic and Pet Resort is dedicated to the health and well-being of your pet. This is why we require all animals entering our boarding facilities to be current on all vaccinations, and that they be given by a licensed veterinarian (Dogs: DHPP (1 year), Bordetella (1 year), Rabies (1 year or 3 year) and Cats: FVRCP (1 year) and Rabies (1 year or 3 year). If your pet is not current we will gladly update them for you during their stay. We also require a flea/tick treatment to protect your pet while in our facility. Currently we use Frontline Gold and will administer the one-month dose when your pet arrives for their stay at an additional fee. If you bring in your own flea and tick treatment we can apply it for you at no charge. Accepted preventatives are Frontline Plus, Frontline Gold, NexGard, Bravecto, Simparica or Revolution. Other brands may be accepted on a case by case basis. Over the counter vaccines and/or parasitic preventatives are not accepted. This is for protection of your pet as well as preventing spread of fleas or ticks from one boarder to another.
Dogs are walked twice daily for about 10-15 minutes each time by our kennel attendants. Dogs from the same household may be walked together, but we do not allow socialization with pets from different homes or doggie playtime. Our day staff periodically checks on animals by doing walk throughs of the kennel room to clean accidents and make sure your pet is in good health. We ensure each pet has a clean run and fresh water during their stay.
Personal blankets and/or beds are not accepted, but don't worry, we do provide appropriate bedding for our boarding animals. You may bring treats for your pet, but bones, rawhides, or similar items are not permitted. We kindly request you keep your personal leashes, since many look very similar and they can be lost. We are not responsible for lost/destroyed items. All personal items are left at your own risk.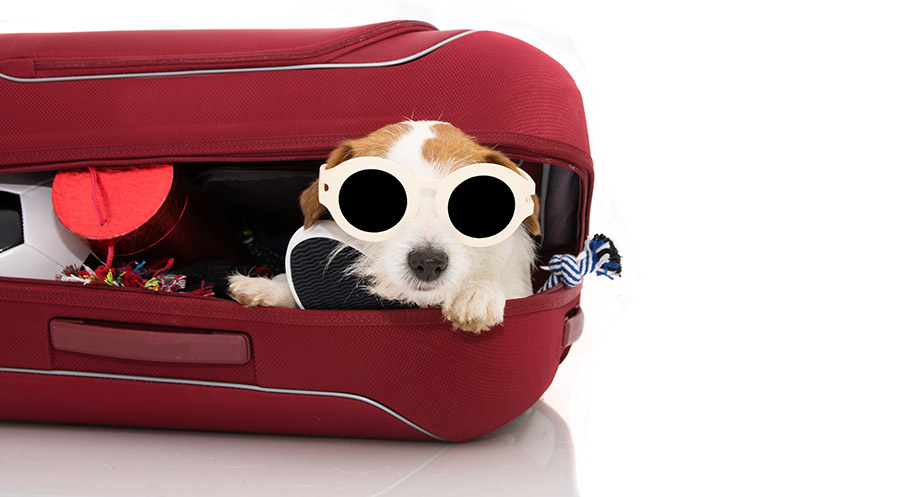 While boarding, your pet will be fed Science Diet Sensitive Stomach. If you prefer to bring your own food you may at no additional charge. We will accommodate any special requests about the frequency or amount of your pet's feeding. Please be aware that we do not have staff on the premises after regular working hours. For your pet's safely we are alarmed for break-in and fire. Also, we are equipped with automatic fire sprinklers for the safety of the animals in our care.
​We invite you set up a tour and see our facility and look forward to your pet's stay in their home away from home.
Boarding Pricing
Boarding check in is allowed during our normal office hours, Monday thru Friday from 7am to 7pm and Saturday from 8am to 5pm, excluding certain holidays or other hospital closures. Our competitive boarding prices are per day, starting the day your pets are checked in. Just like a hotel if you pick up your pet before 11am you will not be charged for that day but if you pick up after 11am charges for that day will apply.
Holidays: Holidays book quickly, we recommend scheduling your pets boarding stay in advance of major Holidays. Our office is closed on all Sundays, Thanksgiving, Christmas, New Years Day, Labor Day and Memorial Day. Please schedule your pet's boarding stay so that their check in and check out do not land on these dates.
Flea/Tick Treatment (required) – Flea and tick prevention is required for boarding. We will apply Frontline Gold, a one month topical parasite treatment during their stay for an additional cost of $24.50. You may also bring in your own supply of approved flea and tick prevention and our staff will apply it to your pet at no additional cost.
Medicating – If your pet needs medications to be administered during their boarding stay we can accomadate this for you! We will medicate your pet while you are away at the intervals directed by the prescribing doctor. If your pet needs medication it is a $5.25 charge per day. If your pet needs professional care/treatment by a technician while here, there will be a $15.00 charge per day. Please inquire if your animal is diabetic and requires timed insulin.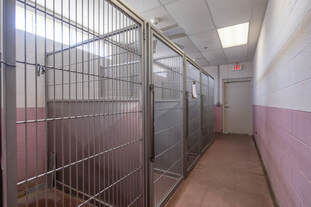 Dog Boarding (runs): We have 10 dog runs that are indoor only and air conditioned in the summer and heated in the winter. Your pets may board individually or they may share a run. Please note that if your pets share a run, we are not responsible for any fights or scuffles that may occur between your pets.
Medium Dog Run – 3′ x 6.5′ (total of 6 runs) – $28.25 per day
Large Dog Run – 3.5′ x 6.5′ (total of 3 runs) – $30.25 per day
X-Large Dog Run – 6.5′ x 6.5′ (total of 1 run) – $45.25 per day
​**Second Pet if Boarding in same Run or Cage – $22.25 per day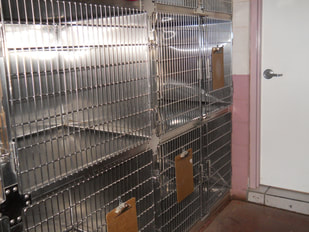 Dog Boarding (cages): We have a total of 6 cages for boarding. These are designed for small dogs, under 20 pounds. We want each pet to have a comfortable stay, so cages only accomadate one pet.
Small/Medium Dog Cage – 2′ x 3′ (total of 4 cages) – $18.25 per day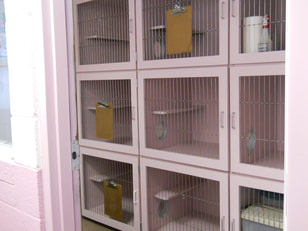 Cat Condos: We board all our cats in our cat condos in a room seaparate from dogs. This helps reduce noise from any barking dogs and keep the cats calm during their stay. The cat condos have shelves for climbing. We provide all litter and litter boxes. Because of the size of the condos we do not allow sharing but we can open and conjoin 2 condos if you wish your cats to share. Cats are fed Hills Science Diet Sensitive Stomach, if they are on a specific diet you may bring their regualr food to be fed at no additional charge.
Condo 2.5′ x 2.5′ (total of 9 condos) – $18.25 per day